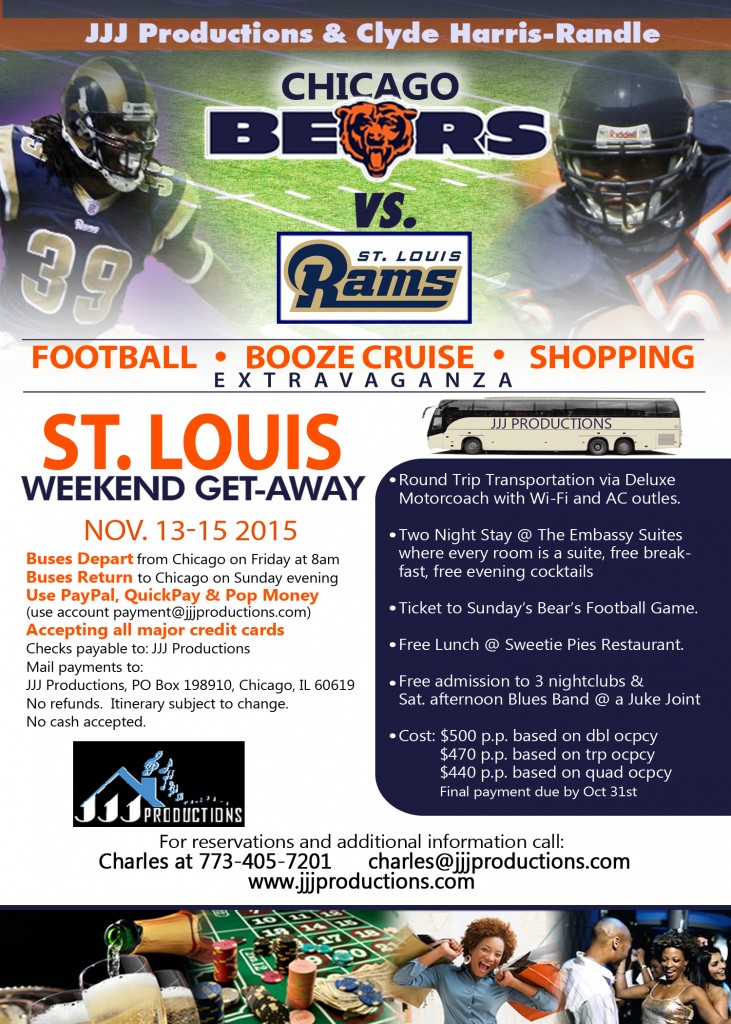 Breaking News: 

 Another Party Bus has been added – Seats are now available – Payment Deadline Extended
This action packed weekend features Tickets to The Chicago Bears vs. St. Louis Ram Football game.
With this 3 Day / 2 Night weekend trip, the fun starts Friday morning when the Champagne bottles pop as the Deluxe Coach Buses enter the expressway. Prepare for 5 hours of excitement, music, dancing, movies, games, raffles, open mic, bad jokes, and plenty of laughter.
The first stop will be Sweetie Pies restaurant where your lunch/dinner is included in the package.   After lunch we check into the Embassy Suites hotel for two nights – where every room is a suite.  This hotel includes complimentary made-to-order Breakfast and with an Omelet and waffle station.  Every evening in the lobby, complimentary cocktails and snacks are served.
Friday night, or any night for that matter, you can chill in your luxurious suites for the evening, or, you can join our coach buses as we are chauffeured to one of the hottest night clubs in the St Louis area for Mature adults.
Saturday morning, after your complementary breakfast, the buses will take us to the shopping mall or you can ride the hotel casino shuttle service.  Don't stay too long because next we are going to a Saturday afternoon "Juke Joint" where a live Blues Band will be performing.   Now that we got our "Blues On", we will head to the next hottest night club for mature adults.  At the end of the evening, for those who have any energy left, we will have an after party at the hospitality room of the hotel where 6 low and 6 no-trump will be heard on a normal basis.
Sunday morning, after your complementary breakfast, put on your favorite Bears gear as we head over to the St Louis Football Stadium and "whoop up" on the lowly Rams.  Great seats, although they're high up, (Terrace Midfield & Sideline), but they are near the 40 yard line, which gives you a full view of the playing field and beautiful indoor dome stadium.  You will be able to see Jay Cutler's interceptions anywhere on the field!  (That wasn't nice, sorry)  Go Bears!
This will be the last bus reserved so text, email, and call your friends, family & co-workers to see who all wants to go. Or, step out your box and go alone, I guarantee you will meet plenty of new friends for life. The people who have been traveling with JJJ Productions for the past 19 years are warm friendly and outgoing.  That's what we attract and that's what makes us such a fun group to be a part of.
Call Charles (773) 405-7201 as soon as possible to check for availability, secure your seats, and discuss payment options.
| | | |
| --- | --- | --- |
| Occupancy | Price Per Person | Early Bird Special |
| Single | $640 | N/A |
| Double | $500 | N/A |
| Triple | $470 | N/A |
| Quad | $440 | N/A |