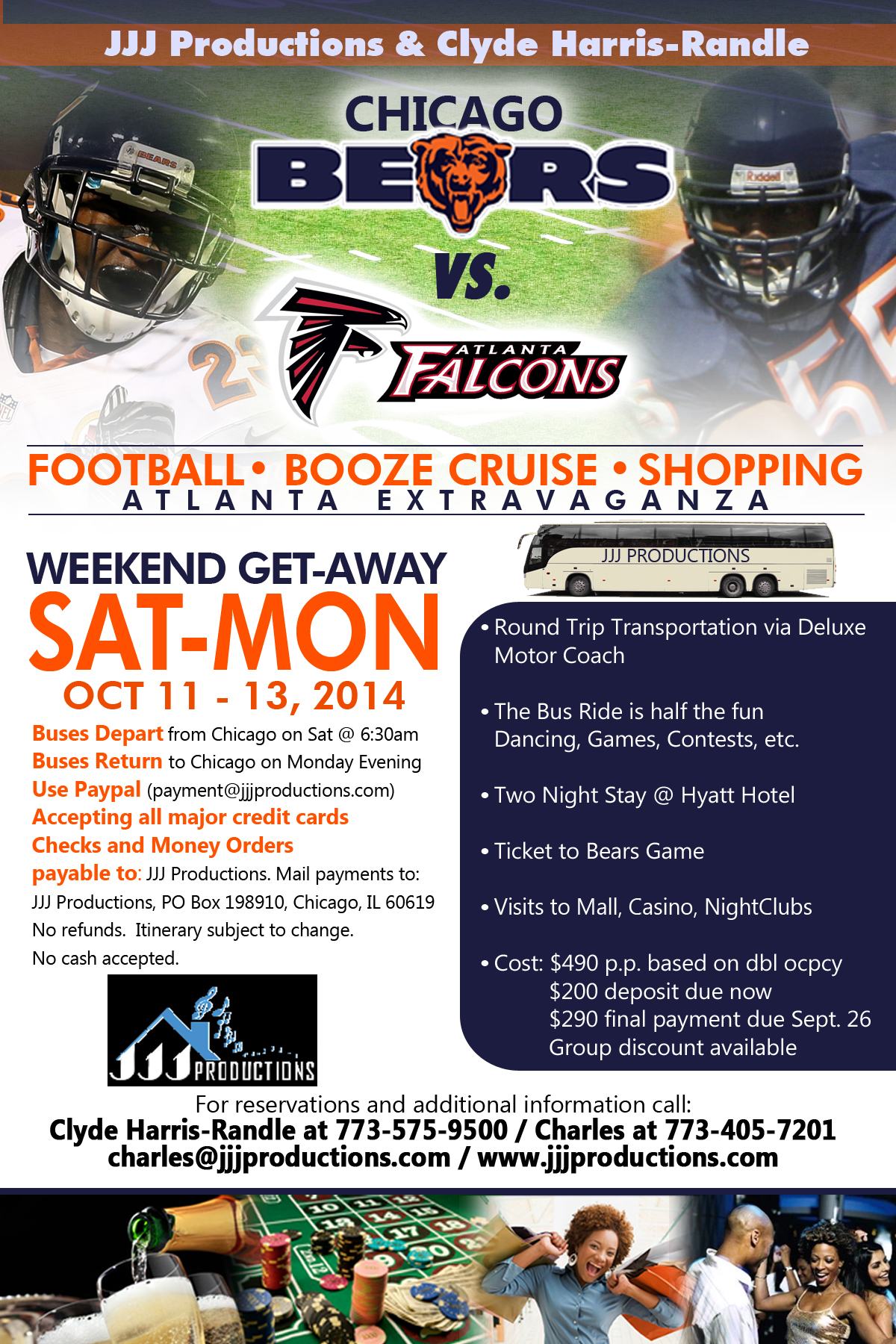 Buses depart to Atlanta Sat Oct 11 at 6:30am and Return to Chicago Monday Eve Oct 13 aprx. 10:00pm
The Bus ride is half the fun: Games, Contests, Dancing in the aisles, Bid Whist, Open Mike Comedy, Singing and Poetry.
Free flowing champagne, a host of other beverages provided and a variety of snacks will be included.
Two Night Stay at the Luxurious Hyatt Regency Hotel Downtown Atlanta, just a few blocks away from the Georgia Dome, where the football game will be held featuring the largest African American Tailgating Party in the entire country.
The NFL Game time has been moved to Sunday 4:25pm, Est., (Atlanta time) which leaves us more time to sight see the Georgia Aquarium, Shop at the Outlet Mall, and do more Tailgaiting!  Other groups are putting their buses on road after the game (8:00pm) and all the partying driving during the night, arriving in Chicago in the wee hours of the morning.  But not JJJ productions, we are staying an extra night to allow for more partying Sun Night at the ATL's hottest night club and then some rest for our trip home on Monday (A Holiday), during the day.
Saturday

Oct 11, 2014
6:00am – 6:30am

Board Bus @ 8600 S. Cottage Grove (Rear of Target's parking Lot)

The bus captains will be wearing Blue & White Jacket and Caps. See any captain for information.

6:30am
Depart to Atlanta

Beverages and Snacks provided

Periodic 30 minutes rest stops as needed
5:00pm
Hotel check in:

We ask that everyone remain on the bus until you receive your hotel room key

 
8:00pm – 8:15pm
Board Bus to Grown Folks Cafe

5495 Old National Hwy, Atlanta, GA 30349

8:15pm – 1:00am
Bus Departs to Grown Folks Cafe

Board and return back to Hotel 1:00-1:15am

 
Hospitality Suite may be available for late night card games – Bid Whist
Sunday

Oct 12, 2014
7:30-10:30am
Breakfast Buffet (Complimentary) You must have your breakfast ticket
9:00am – 9:15am

Board buses to Georgia Aquarium

and/or

Martin Luther King  Jr National Historic Site (U.S. National  …

450 Auburn Ave NE, Atlanta, GA 30312

Lenox Square Mall

3393 Peachtree Rd,

Atlanta, GA 30326

Leave Aquarium and go directly to Mall

11:00am – 1:00pm

Lenox Square Mall

Return to hotel – Bus will return at 1:15pm

3:00pm – 3:15pm
Board Bus to Bears Football Game at the Georgia Dome

Game time 4:25pm

Tailgating is taking place all morning long, if you want to walk over to Stadium

9:30pm – 9:45pm
Board Buses – Depart to Club Vanquish and/or Club Privae

1029 Peachtree St NE, Atlanta, GA 30309 and/or 960 Spring St NW, Atlanta, GA 30309

1:00am – 1:15am
Board Buses – Return to Hotel

 

Hospitality Suite may be available for late night card games – Bid Whist
Monday

Oct 13, 2014
10:45 – 11:00am
Board Bus to Return to Chicago
11:00am
Depart to Chicago

We will make 30 minute rest stops as needed

Itinerary subject to change
Night Clubs we may attend Saturday and Sunday Night
Grown Folks (Formerly the 20 Grand)
Club Vanguish       Club Privae      Skybox     Ellory
OldSchoolSaturday.com
Price List for Complete Package:
1 person in-a-room $620 per person
2 people in-a-room $490 per person
3 people in-a-room $450 per person
4 people in-a-room $425 per person
A' la Carte Pricing
Hyatt Hotel & Football Game Ticket Only $370 per person based on double Occupancy
Hyatt Hotel & Bus Transportation $390 per person based on double Occupancy
Hotel Only $180 per night, taxes included
Football Game Ticket Only $125 per ticket, shipping, handling, taxes, and fees included.  300 Level.  Price will go up towards game day.
Bus Ride Only $230 Round Trip
Bus Ride Only $150 One Way
Accepting All Major Credit Cards accepted – Add 3% trans. fee
Accepting PayPal, QuickPay, PopMoney. Use payment@jjjproductions.com
Cashier checks and Money orders Payable to JJJ Production.  Mail payment to JJJ Productions, P.O. Box 198910, Chicago, Il 60619
No Cash Accepted – No Refunds – Itinerary subject to change